New York City is the cultural center of the world; a place where talented actors, artists, musicians, and tycoons with the likes of Lady Gaga, Rupert Murdoch, and Demi Moore call home. While New York has many varieties and things to offer, some of us may find ourselves spatially challenged alongside the 8.5 million people living in the city and struggling to take advantage of the limited amount of space we have in our homes. Nevertheless, there are many things magical about this city – cue the cheap thrills of merely passing by a celebs' house on the street! This has got us thinking, which celeb bought an apartment in New York City in the past months? To make things easy, RealtyHop has gathered information on 5 recent celebrities moves in NYC from 2017 to 2018 to keep not only us but also you current on the celeb affairs in NYC!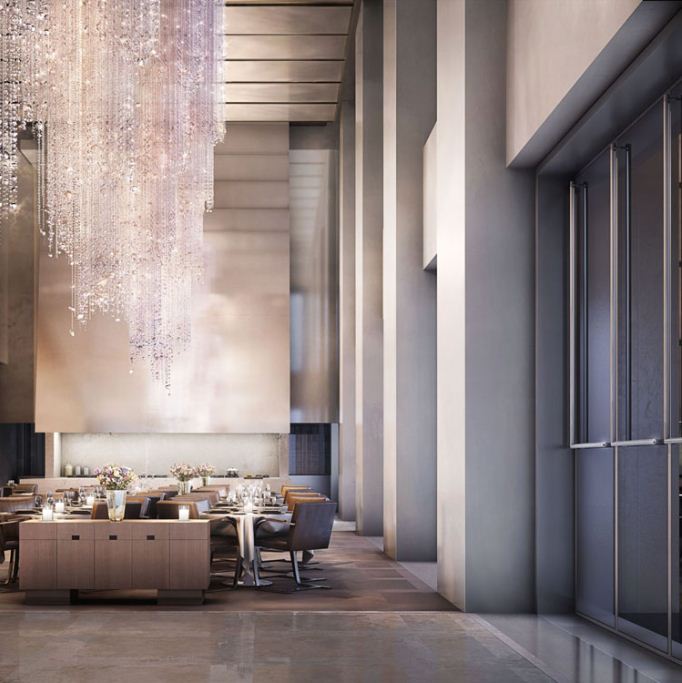 Neighborhood: Midtown East
Price: $15,316,700
Asking Price: $17,500,000
Size: 3 Beds, 4.5 Bath
Closed on: 20 February 2018
Return on Equity: -0.60 %
Est. Sublet: $6,750
HOA/Common: $8,331
Taxes: $7,233
In February, Ms. Lopez and Mr. Rodriguez's made a move in NYC and called their 4,000 square feet apartment at 432 Park Avenue (the world's tallest residential tower) home. Built in 2015, and designed by Rafael Viñoly, this residential tower, located between 56th street and 57th street, offers a breathtaking view of Manhattan's Central Park and the city. Besides that, there is no lack of access to amenities such as a lounge, a private restaurant, a 75-foot swimming pool, and so on.
* Picture attribution: Corcoran
Neighborhood: West Village
Price: $10,500,000
Asking Price: $10,500,000
Size: 3 Bed, 2.5 Baths
Closed on: 8 December 2017
Return on Equity: 0.32%
Est. Sublet: $2,760
HOA/Common: $0
Taxes: $0
Standing at 118 years old (built 1899), 33 Charles Street is a vintage, polished, and luxurious townhouse. Featuring oversized windows, along with a combination of the original woodwork with modern touches, 33 Charles Street provides a much-needed respite in the ever-busy New York City. The townhouse also used to be occupied by Oscar winner Hilary Swank from 2002 to 2006. It is no wonder that Lawton, the President of Macy, saw the potential in this precious West Village Townhouse which required no extra work to be redone.
* Picture attribution: Corcoran
Neighborhood: Greenwich Village
Price: $6,300,000
Asking Price: $7,150,000
Size: 3 Beds, 4 Baths
Closed on: 30 August 2017
Return on Equity: 0.45%
Est. Sublet: $8,050
HOA/Common: $3,338
Taxes: $2,336
Say hello to neighbors Alec Baldwin and Amanda Seyfried in Devonshire House. Good Wife star Josh Charles purchased his new Greenwich Village home right after selling his beloved bedroom condo at 42 East 12th Street for $3,750,000. Featuring a blend of Italian and English detailing along with detailed modern interior designs, the 1928-built classic pre-war condo is an archetype of a dream condo in the heart of Greenwich Village.
* Picture attribution: RealtyHop
Neighborhood: West Village
Price: $18,940,564
Asking Price: $19,500,000
Size: 4 Beds, 4.5 Baths
Closed on: 1 August 2017
Return on Equity: N/A
HOA/Common: $7,104
Taxes: N/A
After listing his duplex penthouse at 150 Charles Street on the market for sale, Jersey rocker Jon Bon Jovi (John Francis Bongiovi Jr.) claims another swanky apartment as his new home. The building was built in 2013 and incorporates a wide variety of state-of-art amenities that one could ask for.
* Picture attribution: Curbed NY
Neighborhood: Turtle Bay
Price: $8,000,000
Asking Price: N/A
Size: 4 Beds, 3 Baths
Closed on: 29 June 2017
Return on Equity: N/A
HOA/Common & Taxes: $7,606
Known as the former TV host of "The View" and a vocal critic of the current president, Rosie O'Donnell picked up the Midtown Manhattan triplex penthouse last June. This is no ordinary penthouse, for it comes with a 1,620 square foot roof terrace and provides a comprehensive range of services. Built 1985, the condo is a prestigious and chic gem on the east side of Midtown Manhattan, which offers a magnificent view of both the East River and the city skyline. Other renown neighbors in the building include famous professionals, writers, actors, and diplomats such as the Consulate Generals of Peru and Ukraine.
* Picture attribution: Variety